When carefully curated feeds and digital blueprints are all the rage, knowing how to curate an aesthetically pleasing Instagram feed always helps. Your feed is a basic glimpse into your personality, and parts of yourself that you want to share with the world or a few loved ones. The process of creating a feed can come organically, or it can be manicured and edited to perfection. The difference fluctuates from person to person, but the best part of having a personal feed is the flexibility to experiment with assorted styles, colour palettes, and types of aesthetics. So, sharing your most stylish and memorable moments can be a fun way to curate an Instagram feed.
The perfect Instagram shot can be composed of a variety of factors. When we take a picture for the feed, the goal is to create something that comes together perfectly, be it the background, the lighting, or the subject of the picture. There is a reason selfies and portraits are some of the most favoured images shared on your feed. The idea is to intrigue. So, if you are looking to create that perfect shot for your handle, taking the help of accessories like goggles can always come in handy. Let us look at some spectacular goggles that will improve your Instagram feed manifolds. 
Brown Wayfarer Goggles
Wayfarer goggles are a symbol of the vagabond spirit and a great accessory for those who love to embrace the spirit of adventure in every aspect of their life. These brown wayfarers with heavy frames and temples complement most of your ensembles be it business chic or after-hour casual. The brown shade is a departure from the quintessential black wayfarers, giving it a classy finish to your candids for Instagram. The square sunglasses and large lenses are great for protection all year round making them a trusted companion through the seasons in style.
Gold Aviator Goggles
The silhouette of the Aviator goggles is one of the most recognizable in fashion. The accessory has become synonymous with style, effortlessness, and comfort. The large lenses offer a seamless mixture of function and fashion, where the eyes and the skin around, stays protected from the sun's rays and UV radiation. One of the most reliable and sought-after designs, the Aviator goggles are a must-have for every gentleman's wardrobe and eyewear collection. The gold frames complemented by the dark lenses add a touch of quiet opulence to the classic design. Be it for jet-setting around the world or a casual brunch, Aviators are the way to go. 
Bugeye Rimmed Goggles
Big glasses are back for the summer, with the Bugeye goggles making a subtle return to the fashion boards this year. This style of goggles has its moments where it periodically returns to being in vogue. As Instagram grids are all about telling a story, these bugeye goggles can be an accessory to a classic and retro-inspired portrait. The gaze over the frame through bugeye glasses is one of the most iconic poses when it comes to editorials and popular culture making it a must-try for the feed. The big lenses are great for sun protection and stay-in-style all through the seasons.
Gold Square Sunglasses
Gold and metallics have become a mainstay in recent years when it comes to eyewear. These square sunglasses have gradient light lenses that can elevate any look. These ideal square sunglasses for rounder face shapes, which can deftly balance out your features. Light-coloured frames are a nod to the resurgence of urban-chic styles of the early 2000s. These square sunglasses are inspired by that style. These goggles can be paired with casual and athletic ensembles, making them an eye-catching accessory for those who love to make a statement. 
Black Wayfarer Square Sunglasses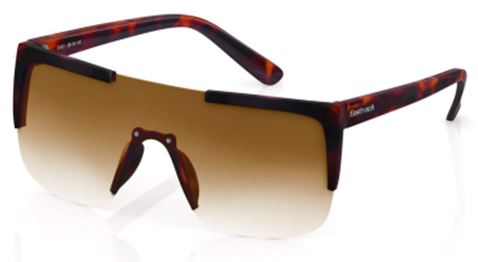 When it comes to making statements, few goggles can do the job as well as these square sunglasses. These sunglasses speak to the fashion-forward, edging on futuristic urban-chic silhouettes. The diffused finish on the lenses of these square sunglasses come with a gradient. These goggles can be the ideal accessory for the streetwear and urban-chic ensembles for your Instagram feed, where your eyewear can be the subject of the images. Guaranteed to turn heads and spark conversation, these square sunglasses will be a terrific addition to your eyewear collection and Instagram feed.
Looking for iconic sunglasses can often be troublesome amid an abundance of options. Few spaces offer a guarantee of competitive prices and the best quality products when it comes to eyewear. Therefore, if you are looking for Insta-worthy eyewear that can spruce up your feed, you can head over to trusted brands such as Fastrack Eyewear which offers an unlimited selection of trendy and affordable eyewear for every occasion and aesthetics.