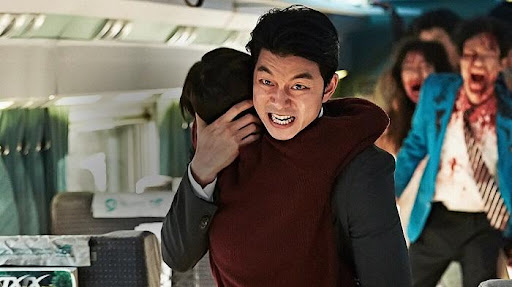 Are you looking for a scary movie to watch on Peacock TV? The streaming service has a deep catalog of horror movies enough to give you the scare. From zombie flicks to scary slashers, Peacock TV has it all as horror films feature prominently on the best movies on the platform.
We've put together this list of the ten best horror movies on Peacock TV from classic horror selection and newer releases to provide your horror fix.
However, even though peacock TV is available in the UK, Sky and Now users only have limited access to the content. Grab a VPN and connect to a US server to stream Peacock TV UK and watch these top horror movies.
Train to Busan (2016)
Director: Sang-ho Yeon
Writers: Joo-Suk Park, Sang-ho Yeon
Cast: Gong Yoo, Gong Yoo, Ma Dong-Seok
IMDB Rating: 7.6/10
Train to Busan is one of the top zombie movies of all time and is about a father and daughter aboard a fast train from Seoul to Busan. Gong Yoo is taking his daughter Soo-Ahn to her mother because he leads a busy life and doesn't have much time for her.
However, their trip to Busan becomes a battle for survival as the passengers on the train turn into flesh-eating zombies. Train to Busan is a fast-paced South Korean production with excellent cinematography.
An American Werewolf in London (1981)
Director: John Landis
Writer: John Landis
Cast: David Naughton, Jenny Agutter, Joe Belcher
IMDB Rating: 7.5/10
An American Werewolf in London is about two American students backpacking in the English countryside. They are attacked by a wolf that kills one of them while the other survives with serious injuries. The wolf is killed but surprisingly turns into human form, but the locals surprise the surviving student as they refuse to acknowledge it was a werewolf.
The student starts to have weird nightmares of hunting on all fours. His dead friend and other recent victims haunt him hoping to drive him to suicide as they're trapped between worlds. The movie is a classic with amazing visual effects.
Night of the Living Dead (1968)
Director: George A. Romero
Writers: George A. Romero, John A. Russo
Cast: Duane Jones, Karl Hardman, Judith O'Dea
IMDB Rating: 7.8/10
Night of the Living Dead is another classic horror film on Peacock TV about of group of Pennsylvanian residents attacked by a horde of zombies. The residents barricade themselves in an old farmhouse and work hard and fast to secure any entrance point.
The team, led by Barbara and Ben, is surprised to find five more people hiding in the basement. One of them, Harry Cooper, wants to be the leader, creating a rift that lessens their chances of survival. The film features social commentary and is a must-watch on Peacock TV.
Black Christmas (1974)
Director: Bob Clark
Writer: Roy Moore
Cast: Olivia Hussey, Keir Dullea, Margot Kidder
IMDB Rating: 7.1/10
Christmas should be a time to make merry with friends or family, but Jess and her sorority sisters find themselves in a tricky situation. The girls start receiving weird phone calls from an unknown number, putting them on edge. Things get really weird when Clare, one of their friends, disappears without a trace.
They contact the police, who don't show much concern until a body of a 13-year-old is found in the park. The police set up a wiretap on the sorority house to identify the caller, but will they save the girls? Black Christmas is another classic horror flick on Peacock TV and an original slasher movie.
Sinister (2012)
Director: Scott Derrickson
Writers: Scott Derrickson, C. Robert Cargill
Cast: Ethan Hawke, Juliet Rylance, James Ransone
IMDB Rating: 6.8/10
Ellison Oswalt is a true crime writer who has run out of ideas for his next project. Desperate to find his next bestseller, he moves his wife and kids to a house where gruesome murders occurred. Ellison investigates the serial killer who committed the murders but finds more than he bargained for.
Sinister is a great horror movie that brings horror back into horror. The director uses dark and light contrasts to create dark spaces to send chills down your spine.
You Should Have Left (2020)
Director: David Koepp
Writers: David Koepp, Daniel Kehlmann
Cast: Kevin Bacon, Amanda Seyfried, Avery Tiiu Essex
IMDB Rating: 5.4/10
The story is about Theo, a middle-aged former banker, Sussana, his actress wife, and their six-year-old daughter, Ella. Theo doesn't have many friends as he was accused of killing his first wife but was acquitted by the courts.
The family decides to travel to the Welsh countryside to bond as a family, but Theo suspects there's an evil force inside the house. The story in this film takes place inside the house, and the director uses this location to near perfection.
Jackals (2017)
Director: Kevin Greutert
Writer: Jared Rivet
Cast: Deborah Kara Unger, Ben Sullivan, Chelsea Ricketts
IMDB Rating: 5/10
The film is about a cult deprogrammer hired by a family to take back their teenage son who's joined a murderous cult. However, the cult members won't allow them to keep him and surround their cabin with crude weapons demanding the boy back.
Jackals had the potential to be one of the most chilling horror movies on Peacock TV, but some scenes seemed rushed. However, it's still an excellent watch for horror movie buffs.
The Black Phone (2021)
Director: Scott Derrickson
Writers: Joe Hill, Scott Derrickson, C. Robert Cargill
Cast: Mason Thames, Madeleine McGraw, Ethan Hawke
IMDB Rating: 7/10
Finney Blake is a smart 13-year-old boy who's abducted while heading home by a child killer. He's locked in a soundproof basement where screaming won't do him any good. All he has is an old mattress to lie on and a black phone that doesn't work.
However, his little sister sees the man who took him in a dream which is shocking since the police didn't release the details of the abduction. Things turn weird as the phone in the soundproofed basement rings, and the person calling is one of the killer's victims. Ethan Hawke is excellent in this movie as a bad guy.
Phantasm (1979)
Director: Don Coscarelli
Writer: Don Coscarelli
Cast: A. Michael Baldwin, Bill Thornbury, Reggie Bannister
IMDB Rating: 6.6/10
The movie is about a young boy, Mike, his brother, and friends who come face to face with the Tall Man who steals bodies from the graveyard. Mike takes it upon himself to investigate and finds out that the Tall Man shrinks the dead bodies to half their size, enslaving them.
The man uses crude sphere weapons, and it's up to Mike, his brother, and Reggie to defeat the Tall Man. Like most classic horror movies ,Phantasm had a low budget, but you can't tell because the end product is incredible.
Better Watch Out (2016)
Director: Chris Peckover
Writers: Zack Kahn, Chris Peckover
Cast: Olivia DeJonge, Levi Miller, Ed Oxenbould
IMDB Rating: 6.5/10
When you think of the suburbs, you picture a quiet and relaxed place perfect for the holidays. That was Ashley's idea of the suburbs when she took a babysitting job. However, she got more than she bargained for when intruders broke into the house to terrorize her and twelve-year-old Luke.
The brave Ashley steps up to defend Luke but soon realizes this is not an ordinary break-in. The cast is incredible in this film, especially Olivia DeJonge, who plays Ashley.
Wrap Up
That's our list of the ten best Horror Movies on Peacock TV. The streaming service has a creepy selection of movies, so get your subscription ready and prepare to get scared.