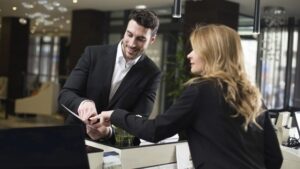 Staying in a business hotel can be equal parts convenient and luxurious. But a lot of people aren't sure how to define the difference between staying in a business hotel and staying in a leisure or resort hotel. 
Well, this is a great thing to talk about—because as you go about the process of traveling for work, you may come to realize that you'll have options in both camps. 
Which one works better? And how should you make your choice?
There's definitely a difference. In fact, Hotel Engine describes it like this:
"As a general rule, business travelers stay at hotels on weekdays, boosting hotel bookings on days that would typically be slower. Some hotel chains offer conveniences that cater to the hard-working corporate segment to further attract this customer base."
In this blog post, you're going to learn the pros and cons of staying in a business hotel. These tips will help you to figure out the good, the bad, and the 'in between' in figuring out which one is right for you. 
Let's dive into it. 
1. No Amenities For Children
Business hotels are intended to facilitate professional convenience. And they're not necessarily designed to facilitate family fun. 
With that being said, you'll generally find that there aren't that many kid-friendly amenities to be offered in most business hotels. Thus, if you tend to travel with kids, you may be better suited to a resort hotel instead. 
2. Desks In The Rooms
Most hotels have at least a small 'desk space' where you could set up a laptop and get some work done. 
But dedicated business hotels take this to the next level by providing you with a veritable decked-out workspace that you can use to leverage your hotel room as a pretty awesome office space. 
You'll generally gain access to a nice size desk, an office chair, enough space to facilitate some serious office work, etc. 
This is good news if you need to work from your room. 
But if all you want is leisure—well, this is space that you probably won't utilize. 
3. Lots Of Meeting Room Space
Business hotels tend to have a lot of available meeting space. 
This makes them different from resort hotels in the sense that resort hotels generally only have a couple of conferences or event rooms, instead of several meeting room options. 
This is an awesome amenity if your company needs some meeting space. 
But this probably isn't going to be worth much to you if your only goal is to soak in the pool or stroll along the beach. 
4. A Business Center
A lot of higher-end hotels include workout facilities, pools, spa facilities, etc. 
But business hotels also generally offer a business center where you can get more work accomplished. 
These centers will come equipped with basic office supplies, desks that you can utilize as workspaces, printers, copiers, fax machines, scanners—the works. 
This is an awesome amenity for people who need some office space while on a work trip. 
But this is an amenity that typical 'vacation stay' guests probably won't want to pay for or utilize. 
5. Same Day Laundry Services
Most hotels have self-service laundry rooms, machines, etc. available for the guests to use. 
But business hotels generally take this to another level by offering full-service laundry and dry cleaning. 
They know that adding this amenity creates more time for their guests. Hence, it's worth it. 
But for most typical vacation stay guests, this probably isn't worth the slightly higher price point. 
Hence, why some people may not want to opt for it (and thus, why such travelers may want to get different amenities for their money by staying in a resort hotel). 
Conclusion
Now you know some of the biggest pros and cons of staying in a business hotel. 
To be honest, the cons aren't really 'cons' as much as they are 'amenities that non-business travelers probably wouldn't be interested in paying for.' 
So it's really all a question of what you want to get for your money, versus what you don't really need. 
That's why there are dedicated business hotels, and why some people choose to stay in them—because for some people, the business-related amenities are definitely worth the trade-off.